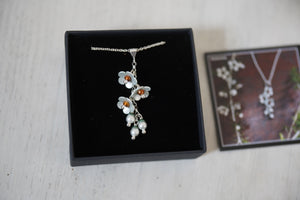 Handmade in New Zealand by Adele Stewart
Back around the time Captain Cook was exploring New Zealand, the manuka seeds were used as medicine. They were chewed to cure any stomach complaints.
These days, mānuka is better known for it's healing honey of course. But personally I think of the light airy petals drifting down like snow in summer.
Every flower is shaped and enamelled by hand with care and attention to detail.
These little creations are all slightly different, due to the hand crafted techniques used.
The enamel reacts to the slightest of changes in the process of the crafting. This gives each flower a unique charm, with subtle flares of colour and changes in the texture of the silver. Each piece ends up a bit of a surprise, just as nature intends.
Made with sterling silver, glass enamel and glass beads.
All components are also sterling silver.