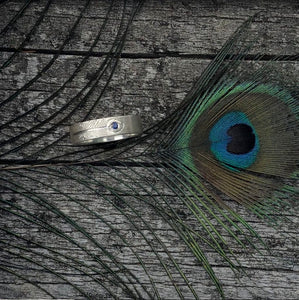 Handmade in New Zealand by Adele Stewart
"My Love and I have quite the selection of birds but the prettiest one has to be Richard the peacock, his iridescent feathers are beautiful from afar and close up. I remind myself of this when he starts calling at 3 o'clock in the morning… 
With the eyes on their tail feathers, peacocks symbolise protection, guidance and awakening. 
This ring is cast in sterling silver from a mould I had made of a ring I hand carved out of jewellers wax.
Then I flush set the sapphire to represent the eye in the peacock tail feather.
I then hand carved the feather with my graver (a hand held cutting tool which uses my strength and control only, so there is no machine is involved.)
I make many of these rings but they are all different as I engrave each one by eye. 
I love engraving with a graver, the process, the simplicity, the skill and the result. You just can't get that bright sparkle and hand crafted feel with laser cut or cast or roll printing techniques.
Enjoy a rare piece of jewellery that is made with skill and love."