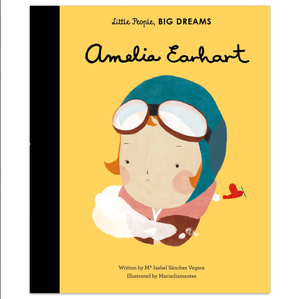 Discover the lives of outstanding people, with the Little People Big Dreams book series, from designers and artists to scientists. All of them achieved incredible things, yet each began life as a child with a dream. Inspire the next generation of little people to change the world.
Amelia Earhart - When Amelia Earhart was young, she liked to imagine she could stretch her wings and fly away like a bird. As a grown woman, she set a new female world record for flying up to 14,000 feet. She also flew across the Atlantic and the Pacific Oceans, and eventually undertook the most dangerous mission of all: to fly all the way around the world. The inspiring story of this brave woman features a facts and photos section at the back.
Author bio:
Maria Isabel Sanchez Vegara, born in Barcelona, Spain, is a writer and creative director in constant search of new concepts for children's books. Working for more than fifteen years for clients in top advertising agencies, her books combine creativity with learning, aiming to establish a new and fresh relationship between children and pop culture.