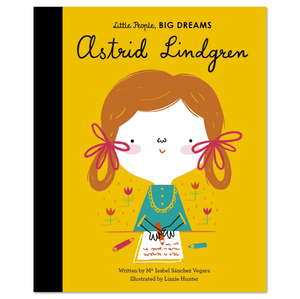 Discover the lives of outstanding people, with the Little People Big Dreams book series, from designers and artists to scientists. All of them achieved incredible things, yet each began life as a child with a dream. Inspire the next generation of little people to change the world.
Astrid Lindgren - at an early age, Astrid fell in love with stories. Growing up in nature, she lived just as a wild, young girl should: exploring the forest, playing games with her siblings and making mischief. Pippi Longstocking emerged from these experiences and, today, reminds us the joy of childhood. This inspiring story about the beloved children's author features a facts and photos section at the back.
Author bio:
Maria Isabel Sanchez Vegara, born in Barcelona, Spain, is a writer and creative director in constant search of new concepts for children's books. Working for more than fifteen years for clients in top advertising agencies, her books combine creativity with learning, aiming to establish a new and fresh relationship between children and pop culture.