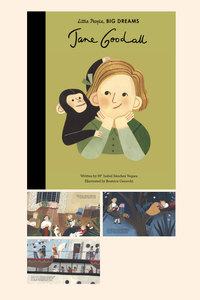 Meet Jane Goodall, the world's foremost expert on chimpanzees.

When Jane was little, her father gave her a toy chimpanzee named Jubilee. This inspired her lifelong love of animals, and she went to study them in the wild as soon as she could. Jane lived with chimpanzees in their natural habitat and became famous for her pioneering approach to research. She now educates the public on animal rights. This moving book features stylish illustrations and extra facts at the back, including a biographical timeline with historical photos and a detailed profile of the primatologist's life.
Author bio:
Maria Isabel Sanchez Vegara, born in Barcelona, Spain, is a writer and creative director in constant search of new concepts for children's books. Working for more than fifteen years for clients in top advertising agencies, her books combine creativity with learning, aiming to establish a new and fresh relationship between children and pop culture.