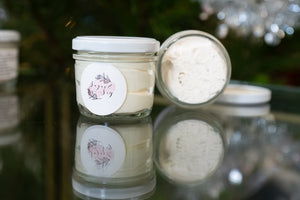 A beautiful creamy mix of all things natural and good for the skin. Handmade in Hokitika, NZ.
This will leave your skin feeling hydrated and silky. Packaged in a glass jar to make the perfect reusable gift!
A little goes a long way.
As with anything new please patch test this first!
Ingredients: Almond Oil, Coconut Oil, Cocoa Butter, Shea Butter, Arrowroot Powder, Fragrance Oil