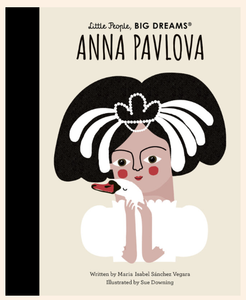 Little Anna fell in love with ballet after watching a performance with her mother. At the age of just nine-years-old, she auditioned for the famous Imperial Ballet! But… she was rejected.
The set-back didn't stop Anna – she auditioned again a year later and was accepted into the company. Although ballet was her passion, it didn't always come easily to her, and she worked fiercely to become the best.  
After her training was complete, she performed across Russia and later formed her own company with which she toured the world. The story of Anna Pavlova, one of the greatest dancers to have ever lived, teaches us that with hard work, our talents can take us wherever we want to go.
This inspiring book features stylish and quirky illustrations and extra facts at the back, including a biographical timeline with historical photos and a detailed profile of the star's life.