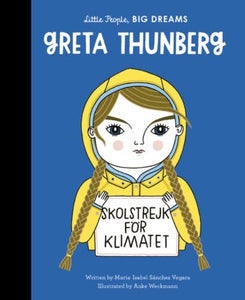 Discover the lives of outstanding people, with the Little People Big Dreams book series, from designers and artists to scientists. All of them achieved incredible things, yet each began life as a child with a dream. Inspire the next generation of little people to change the world.
Meet Greta Thunberg, the environmental activist.

When young Greta learned of the climate crisis, she stopped talking. She couldn't understand why people in power were not doing anything to save our Earth. One day she started protesting outside the Swedish Parliament, creating the "School Strike for Climate." Soon, lots more young people joined her in a global movement that shook adults and politicians alike. She had found her voice and uses it to inspire humans to action with her powerful message: "No one is too small to make a difference." This inspiring book features stylish and quirky illustrations and extra facts at the back, including a biographical timeline with historical photos and a detailed profile of the climate activist's life.
Author bio:
Maria Isabel Sanchez Vegara, born in Barcelona, Spain, is a writer and creative director in constant search of new concepts for children's books. Working for more than fifteen years for clients in top advertising agencies, her books combine creativity with learning, aiming to establish a new and fresh relationship between children and pop culture.