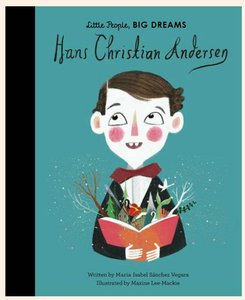 Meet Hans Christian Andersen, the father of fairy tales.
When Hans Christian Andersen was a little boy, he treated storybooks as jewels to be treasured. He wanted to perform on stage, but was always cast as the troll. Luckily, through theater, he found a love for writing. He wrote about both the ordinary and fantastic, in stories like "The Ugly Duckling" and "The Little Mermaid," never talking down to children. This enchanting book features stylish and quirky illustrations and extra facts at the back, including a biographical timeline with historical photos and a detailed profile of the writer's life.
Maria Isabel Sánchez Vegara
Maria Isabel Sánchez Vegara, born in Barcelona, Spain, is a writer and creative director in constant search of new concepts for children's books. Working for more than fifteen years for clients in top advertising agencies, her books combine creativity with learning, aiming to establish a new and fresh relationship between children and pop culture.