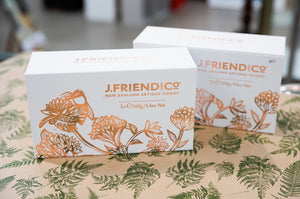 We bring you a taste of New Zealand at its purest.
The perfect gift for any food or honey lover, these varietals are unique New Zealand.
Choose between...
NZ Native Botanicals Collection - Three hand packed glass jars featuring Manuka, Pohutukawa and Kamahi Honey. New Zealand Native honey varietals are sourced from our unique New Zealand landscape.
Tea Pairing Collection - Honey has a natural affinity with tea, in this unique collection we have selected our favourite tea and honey pairings or Beechwood Honeydew, Vipers Bugloss and Manuka. This collection pack provides tasting notes and tea pairing suggestions that will delight your senses. 
J.Friend and Co