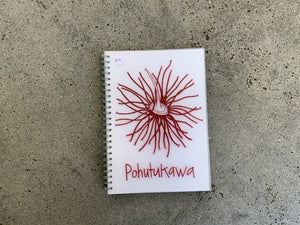 These spiral bound visual diaries have a sturdy card back for a solid writing platform - every plan needs a solid foundation.
The 800 micron natural clear polypropylene front cover is covered with pohutukawa flowers.
Although this product is not predictive, with your input, the white drawing paper will let you sketch out your future.
210mm x 150mm; 40 leaves; 100gsm white offset paper; blank inside; spiral bound.
Made in New Zealand.