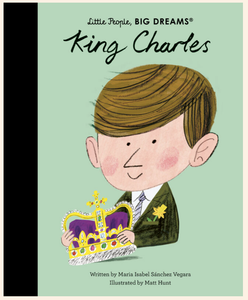 Discover the life of King Charles!
Little Charles always knew that, one day, he would have a big job to do. As the son of Queen Elizabeth II, he was a prince, and in the future, he was to inherit the throne of the United Kingdom.
As a young man, he developed a passion for one cause; the environment. Charles recognised that plastics and pollutants were causing harm to Earth, and as the Prince of Wales, he spent all his efforts championing climate justice and sustainability.
As a member of the Royal Family, Charles used his power to build important organisations such as The Prince's Trust, a charity that works to improve the lives of young people across the UK.
And in 2022, when he became King, he pledged that he would spend the rest of his life serving his people with loyalty, respect and love.
This inspiring book features stylish and quirky illustrations and extra facts at the back, including a biographical timeline with historical photos and a detailed profile of the royal's life, from little prince to grown-up king.