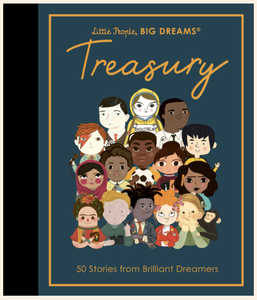 Dive deeper into the world of Little People, BIG DREAMS with this keepsake treasury featuring 50 dreamers from the critically acclaimed, multimillion-copy best-selling series.
Learn more about each of your favorite dreamers with new in-depth stories, facts, and figures.Each story is rewritten to be appropriate for an older audience. Revisit best-loved figures from the series and some new ones, too, including Frida Kahlo, Coco Chanel, Maya Angelou, Amelia Earhart, David Attenborough, Greta Thunberg, Elton John, John Lennon, Malala Yousafzai, Mindy Kaling, and Prince.
Divided by decades, the treasury includes profiles of the world's greatest artists, activists, writers, musicians, TV and film stars, scientists, and sports legends. A timeline, glossary, index, and further reading provide even more to explore.
This deluxe treasury makes the perfect gift for holidays, birthdays, and more.