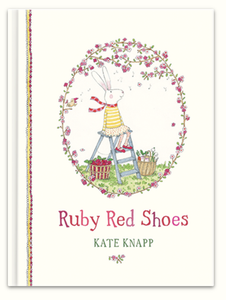 Ruby Red Shoes
by Kate Knapp
Babushka Galushka encourages Ruby to be an aware hare, treating everyone's feelings, as well as her own, with great care.
'Feelings are just like delicate birds' eggs,' she would say. 'Be as gentle as you can with them.'
Synopsis
Ruby Red Shoes lives in a colourful caravan with her grandmother. Ruby is gentle and kind and cares for all living things, including plants and trees, animals and people. Ruby is also particularly fond of strawberry jam and peppermint tea.