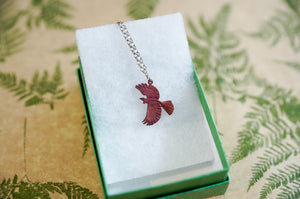 Solid recycled Sterling Silver or Copper pendant cast in the image of the iconic native New Zealand Tui bird. Tuis are extremely boisterous and race around the sky chasing each other as well as having a lovely song.  They look very understated from a distance but close up the multi colour sheen of their feathers is amazing and they have a distinctive white tuft (poi) under their chin. 
The copper has been flame oxidised to a rich red colour and coated with lacquer for durability. 
Pendant Length (wingtip to wingtip): 22mm (0.86in).  Chain length 45cm (17.7in). 
Note: chains not currently sourced from recycled metal.
By New Zealand designer Heidi Gilgenberg.
All our silver and copper is 100% recycled. - Stone Arrow